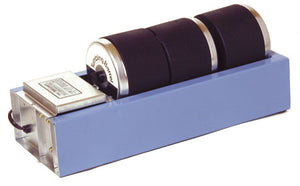 Lortone 3-1.5 Rock Tumbling Kit
Regular price
$178.50
$0.00
Tax included.
Shipping
calculated at checkout.
For a more versatile rock tumbler, take a look at the Lortone 3-1.5 Rock Polishing Kit.  This model offers 3 seperate 1.5lb barrels.  This makes it an excellent choice for tumbling multiple smaller batches of rocks at once. 
Each barrel can be running a different hardness rock and/or each can be at a different stage in the tumbling process if needed.
This is also an excellent tumbler if you have kids who want to run their own rocks in their own seperate barrel.
The Lortone 3-1.5 Kit is a great choice for beginners as it contains everything you need to get started tumbling rocks.  In addition to the tumbler, the kit includes a 4 stage grit and polish pack, platic tumbling beads, illustrated instuctions and even some rocks to get you started.
Lortone has manufactured excellent quality rock tumblers for many years and this tumbler is sure to give you a very enjoyable hobby for years to come.
---
Share this Product
---