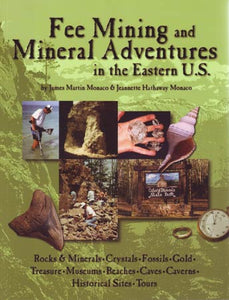 Fee Mining and Mineral Adventures in the Eastern U.S.
Regular price
$15.95
$0.00
Tax included.
Shipping
calculated at checkout.
Much more than a fee mining guide, Fee Mining and Mineral Adventures in the Eastern U.S., is a treasure trove of interesting sites to see and things to do relating to rocks & minerals, gemstones, crystals, fossils, gold and other treasures.
The book covers 270 places to visit, 75 digging sites for collectors, 79 museums, 68 caves and caverns and many other historic and natural points of interest in 31 Eastern states! Locations include Alabama, Arkansas, Connecticut, Delaware, Florida, Georgia, Illinois, Indiana, Iowa, Kentucky, Louisiana, Maine, Maryland, Massachusetts, Michigan, Minnesota, Mississippi, Missouri, New Hampshire, New Jersey, New York, North and South Carolina, Ohio, Pennsylvania, Rhode Island, Tennessee, Vermont, Virginia, West Virginia and Wisconsin.
Find Herkimer Diamonds in New York and crystals and diamonds in Arkansas. Dive for treasure in Florida and pan for gold in North Carolina. Explore caves from Missouri to Pennsylvania and find your own flourescent minerals in New Jersey that glow in the dark. Beachcomb South Carolina for ancient fossils and so much more.
This guide will interest anyone, from experienced rockhounds and prospectors to families on vacation. Seasons, hours of operation, and contact information are all included, as well as expected costs and tools required. History, regional attractions and camping information turn this into much more than just a list of places to dig. Monaco, softcover, 264 pages, ISBN 1-889786-27-6
---
Share this Product
---