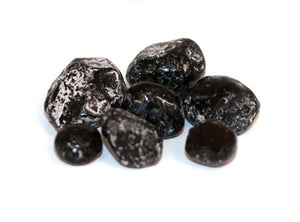 Apache Tears
Regular price
$6.00
$0.00
Tax included.
Shipping
calculated at checkout.
Apache Tears are rounded pieces of compressed obsidian, often in a perlite matrix. Being volcanic glass, Apache Tears are translucent and colors range from reds to browns to blacks. Apache Tears are also fragile and can be difficult to polish, so care should be taken when tumbling.
The best tip we can give for polishing Apache Tears is to use cushioning media in all polishing stages, or use a vibratory tumbler. Plastic cushion beads, walnut shells or ground corn cob are all common options for cushioning stones and preventing damage. We sell and suggest the plastic beads or the walnut shell, but even rubber bands can and have been used as a cushioning material. I even saw one site suggest oatmeal and cerium oxide run dry (wet would lead to gas build up and a leaky tumbler barrel). Another suggested addition of corn syrup or sugar to the pre-polish and polish stages to thicken the slurry. 
The name "Apache Tears" comes from a legend surrounding a battle fought between 75 Apaches and the U.S. Calvary near Superior, Arizona in the 1870s. The Apaches were outnumbered, and rather than face death at the hands of the Calvary, the warriors rode their horses over a cliff and fell to their deaths. The tears of the grieving families were said to have turned to stone upon falling to the Earth.
---
Share this Product
---