Originally published March 2013 - Henning Counterfeit Nickel and Alaskan Jade Lost Treasure: The Henning Counterfeit Nickel The "Henning" nickel is probably the most famous example of counterfeit coins in US history. Produced by Francis LeRoy Henning of Erial, NJ in the early 1950s, the 1944 Henning nickel is also one of the easiest to spot. During the Second World War, nickel was needed to produce armor plate. So, from 1942 to 1945, five-cent pieces were made in an alloy of copper, silver and manganese. To distinguish new nickels from old nickels when it came time to melt them, each...
---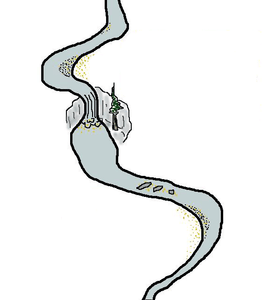 The water turns to chocolate milk from all the silt suspended in the water column. Well, the gold is moving too. From fine particles of flood or float gold, swirling along with the suspended sand and silt, to heavier nuggets bouncing or grinding along with the stream gravels.
---
Gold Panning - How to Pan for Gold We carry a number of prospecting books that cover this subject in greater detail, but here are the basics of how to use a gold pan. 1. Fill your gold pan 1/2 to 2/3 full of gold bearing material (if it's not in there to begin with, it won't magically appear through panning). If you have a classifier, use it to screen off the larger gravel. It will greatly improve your efficiency and gold recovery. 2. Completely submerge pan (and classifier) of material and work it with your hands. Break up any clay...
---
The world's largest gold nugget and the largest gold nugget ever found are two different animals...err...nuggets, and they're also different than the worlds largest single mass of gold ever found.